Deregister your vehicle online for EUR 17.99
Step 1: Check license plate barcode
Important note: Does your license plate not have a QR code? Then please do not expose anything and deregister the vehicle directly at the registration office.
Step 2: Check vehicle registration
Variant 1: The adhesive strip says "freirubbeln".
Variant 2: The adhesive strip says "Abdeckung entfernen"
With this variant, the security code from the vehicle registration document becomes visible by removing the green adhesive strip.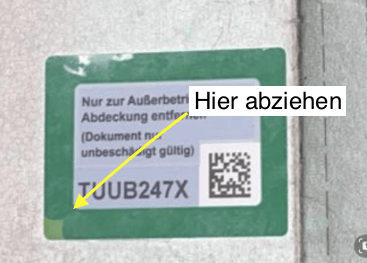 Step 3: Watch video tutorial
Please watch the instruction video till the end.

Step 4: Deregister the vehicle online
When the required security codes are exposed, you can request the deregistration.
Orders received by 9 p.m. will still be processed today.
You can pay immediately or later by bank transfer.
The deregistration notification will be sent to you today as a PDF file by email.